Vienna Breast Surgery Day 2021
15.06.2020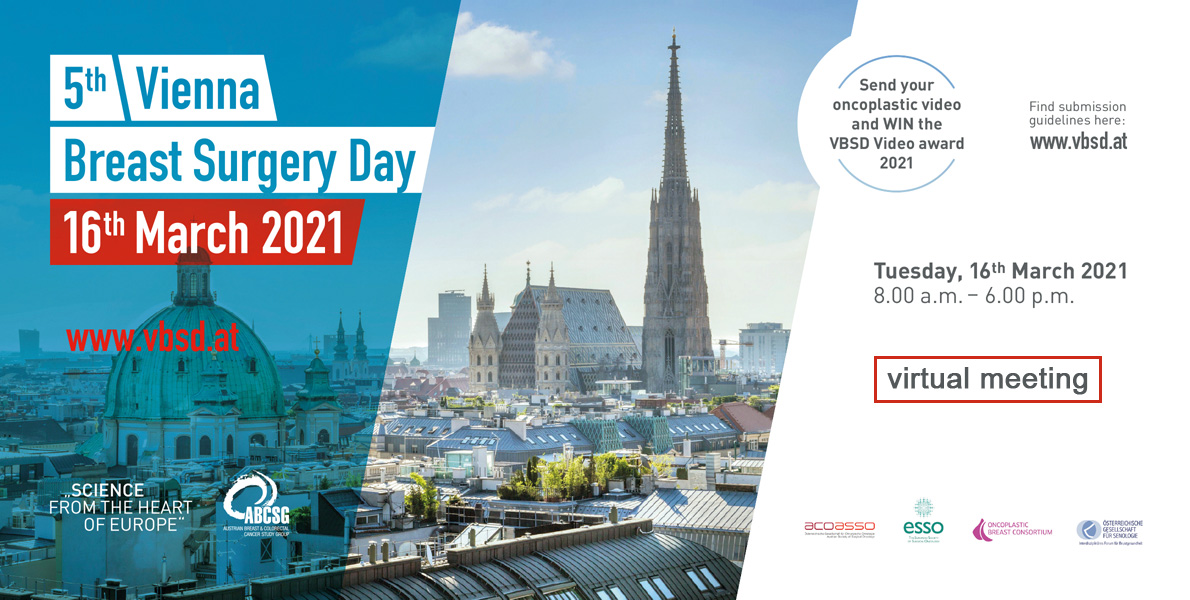 On March 16, 2021, the Vienna Breast Surgery Day (VBSD) will take place for the fifth time one day before the St. Gallen Breast Cancer Conference to give an overview of current developments in oncoplastic surgery and its impact on systemic and local breast cancer treatment options – this time as a virtual event.
The Austrian Breast and Colorectal Cancer Study Group (ABCSG) organizes this event on behalf of Chairman Prof. Florian Fitzal, MD and Prof. Christian Singer, MD. Vienna Breast Surgery Day is hold under the auspices of the Austrian Society of Senology, the Oncoplastic Breast Consortium, Austrian Society of Surgical Oncology and the European Society of Surgical Oncology.
5th Vienna Breast Surgery Day 2021
Tuesday, 16th March 2021, 8 a.m. – 6.00 p.m. CET
virtual meeting
Registration is open, please register here.
Preliminary program is available here.
VBSD Videoaward
We invite you to present your case on video.
Videos should not be longer than 8 minutes and should include the following:Abmelden
A frontal picture of the patient before surgery
A diagnostic appraisal (radiology pictures, histology, patient demographics)
A preoperative drawing
Important operative steps
Initial results immediately following surgery
Long term results from the case presented or from other cases where the same technique was used
Please send the video via WeTransfer to florian.fitzal@meduniwien.ac.at until November 1, 2020.
Only one video per person may be submitted.
The TOP 5 videos will be broadcasted in an extra virtual session and at the end of this videosession, the virtual audience will determine the best video via televoting.
The winner will receive the VBSD Video Award 2021 together with 1000 Euro.
All participants whose videos are chosen to be presented will get their VBSD fee back. All others will be shown on our website.
Further information
This event will be approved with 9 DFP points for Medical Education from the Austrian Medical Chamber.
Information:
elena.kinz@abcsg.at or silvia.bartl@abcsg.at
---
---