CDK 4/6 Inhibitors: Nuance or Difference: 22 April 2021
| | |
| --- | --- |
| Datum: | April 22, 2021 |
| Beginn/Ende: | 6.00-8.00 pm (CET) |
| Ort: | virtual |
02.03.2021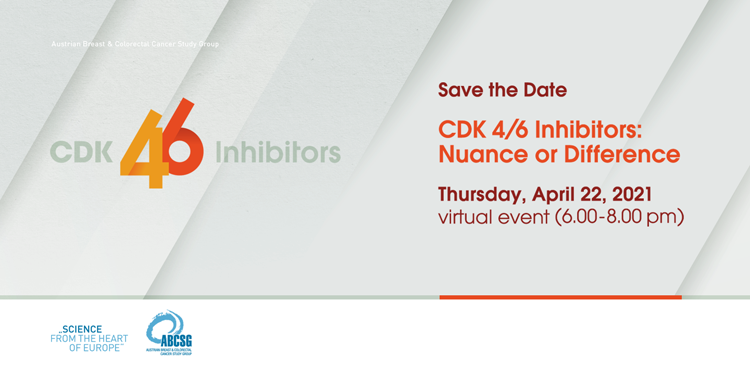 Cyclin-dependent kinase (CDK) 4/6 inhibitors are a new, yet meanwhile well-established class of therapeutic agents that improve the outcomes of patients with hormone receptor-positive breast cancer. Three CDK 4/6 inhibitors have been investigated for the treatment of advanced HR-positive breast cancer, but there are still unanswered questions with respect to individual treatment choices. Also, mechanisms of resistance to CDK4/6 inhibitors, biomarker analyses to better select patients who derive the greatest benefit from CDK4/6 inhibitors, in both early and advanced settings, and more issues have to be elucidated.
In this joint event with Novartis, both ABCSG and Novartis Global experts will discuss biology of the CDK signalling pathway and its inhibitors, including preclinical and clinical data of all three investigated selective CDK4/6 inhibitors, and reported differences in their exact mechanism of action. We will also discuss how these drugs are being included in current international guidelines, how future directions for these agents might look like, and which new developments regarding (other)  CDK inhibitors can be found in research pipelines.
CDK 4/6 Inhibitors: Nuance or Difference
Thursday, April 22, 2021
virtual event (6.00-8.00 pm)
Please register here. 
Please find the program here.
This event will be approved with 3 DFP points for Medical Education from the Austrian Medical Chamber.
---
---