The Changing Treatment Landscape of CDK4/6 Inhibitors
Moving From Late to Early Stages – 09 May 2022
| | |
| --- | --- |
| Datum: | May 09, 2022 |
| Beginn/Ende: | 6.00-8.00 pm (CET) |
| Ort: | virtual |
08.04.2022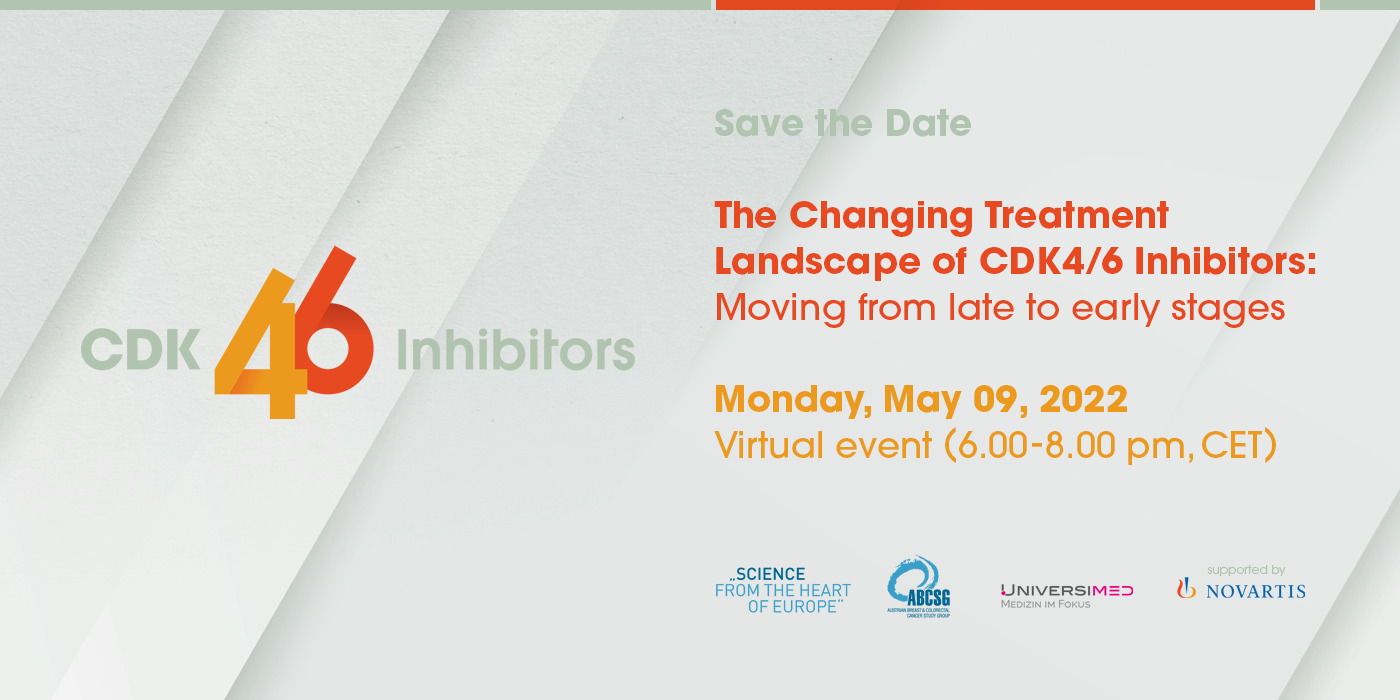 Cyclin-dependent kinase (CDK) 4/6 inhibitors have emerged as an appealing targeted cancer therapy of patients with hormone receptor-positive breast cancer. Prior to the availability of CDK4/6 inhibitors, standard first-line therapy for patients with HR+/HER2- mBC was single-agent endocrine therapy. Currently three new selective CDK4/6 inhibitors are in different stages of development. Also, mechanisms of resistance to CDK4/6 inhibitors, biomarker analyses to better select patients who derive the greatest benefit from CDK4/6 inhibitors, in both early and advanced settings, and more issues have been elucidated.
In this virtual joint event with Novartis – which already takes place the second time – both ABCSG and Novartis global experts will discuss the drastically changing treatment landscape of CDK4/6 inhibitors in different stages of breast cancer.
Particularly the experts will debate on hot topics such as OS data and their significance for clinical routine and therapeutic decision-making, the profiling of intrinsic subtypes and the role of selectivity. Furthermore, preclinical studies will be dissected on their efficacy, prospective research directions as well as co-targeting therapy strategies to overcome CDK4/6 inhibitor resistance through SERDS will be outlined and discussed.
The Changing Treatment Landscape of CDK4/6 Inhibitors: Moving From Late to Early Stages – 09 May 2022
Monday, May 09, 2022
virtual event (6.00-8.00 pm CET)
Das on-demand Video zum Event finden Sie ab sofort im ABCSG Members-Bereich

This event will be approved with 3 DFP points for Medical Education from the Austrian Medical Chamber also you'll receive a certificate of participation if requested.
---
---
Teilen auf