The ABCSG: About Us
The ABCSG (Austrian Breast & Colorectal Cancer Study Group) is Austria's largest and best known academic research organization, successfully conducting international clinical trials on breast and colorectal cancer, since 2013 also projects on pancreatic cancer, and increasingly active in translational research. Our primary goals are to standardize diagnostics, therapy, and post-treatment throughout Austria and to provide patients with the best possible, latest therapy. Since 1984, approximately 29,000 patients have participated in ABCSG studies worldwide.
We work to improve standardization in the diagnosis and treatment of breast, colorectal and pancreatic cancer and to provide the best possible and most up-to-date therapy for our patients. Multidisciplinarity is key to our global success and has been instrumental in improving patient cure rates and survival. Our clinical trials and translational research projects are highly transparent and monitored at every stage by ethics committees, the relevant authorities and a highly professional as well as dedicated operational ABCSG team.
Portfolio of the ABCSG
The ABCSG currently oversees eight recruiting (open for patient recruitment) studies in breast cancer (including one quality of life study of an existing registry study), as well as one recruiting colorectal cancer study (→ see studies section). In addition, twelve other breast cancer studies are being conducted that are in the treatment or follow-up phase. Translational research has also become an important cornerstone; currently, the ABCSG alone is conducting three international collaborations in the area of translational projects (→ see studies section). Thereby, the nature of the ABCSG's participation varies – the Austrian ABCSG centers participate in studies led by organizations / CROs of other countries, just as the ABCSG itself leads and conducts international studies. In this case, the ABCSG is the "legal sponsor" of the study, although there are differences in funding and industry participation. Also, in the case of projects initiated by industry partners, the ABCSG is strongly involved in the design of the study and its protocol, and conducts it under strict quality guidelines regarding transparency, ethics and scientific independence.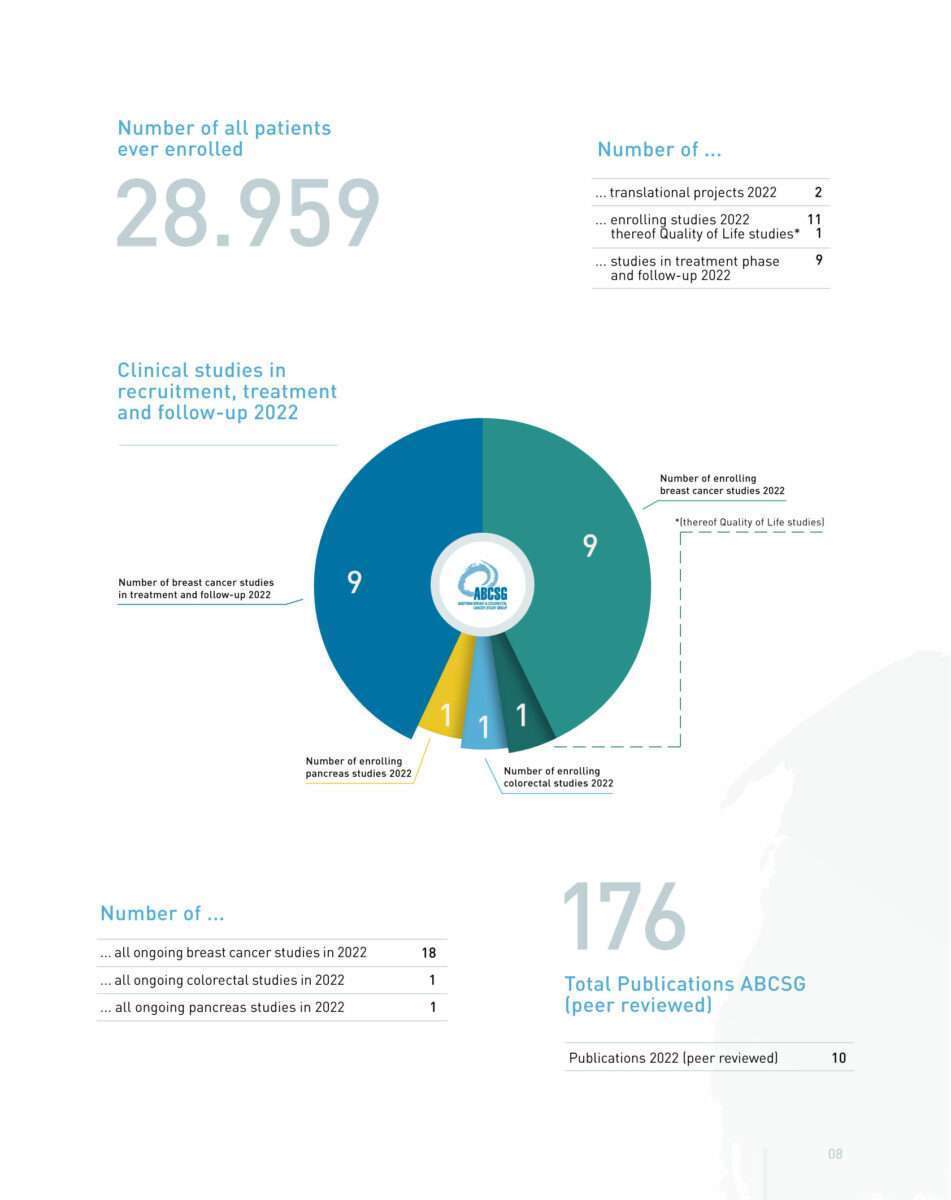 The ABCSG's biggest study successes can be found → here.
Transparency, ethics & independence
In Austria, breast cancer is the most common cancer in women, colorectal cancer the second most common in women and third most common in men. In many European countries, it is extremely difficult to persuade patients to participate in a study. In Austria, many physicians and study nurses together with the ABCSG have succeeded in creating a study-friendly climate. Meanwhile, every second postmenopausal and every third premenopausal breast cancer patient in Austria participates in ABCSG studies. In Austria, the ABCSG thus has an extremely comprehensive network of specialized centers, clinics and practices with hundreds of investigators and study coordinators / nurses. By participating, they commit themselves to nationwide quality controls. The clinical studies conducted are highly transparent and are monitored at every stage by ethics committees and by the relevant authorities. The safety and well-being of the study participants take precedence over the interests of science.
For the benefit of thousands of people affected
Numerous control mechanisms and consistent follow-up care increase the quality of life and life expectancy of study participants and reduce the likelihood of developing breast or colorectal cancer again. Thousands of patients now place their trust in the ABCSG. Comprehensive information for cancer patients is important to the ABCSG, both in its studies and beyond. In addition, the ABCSG cooperates with patient organizations and support institutions in the production of information brochures and the organization of information events for patients.
Collaboration and continuing education training
Interdisciplinarity is essential in modern cancer therapy. In the ABCSG, physicians from different fields work together: Surgery, Radiotherapy, Oncology, Radiology, Gynaecology, Histopathology, Nuclear Medicine, Psychology and Rehabilitation Therapy. Together, diagnostic and therapeutic questions are addressed and answered within the framework of (randomized) clinical trials at the highest quality level. The continuing education program (→ see ABCSG Events) offers ABCSG investigators the opportunity to further their education by means of DFP-approved events and e-learnings, which are created and conducted by leading ABCSG experts based on current scientific data. This enables them to provide their patients with the most up-to-date and appropriate therapy.
International network
Clinical research takes place to a large extent in the form of national and international cooperation. It was recognized early in the ABCSG that a very broad field of research is indispensable, more so since cancer treatment requires a combination of different therapies and depends on a multidisciplinary and international approach. Networking with study groups in Europe and beyond is becoming increasingly important. Clinical trials, especially in the field of cancer research, are becoming more specialized and research questions more detailed. In order to be able to show significant changes through an innovative intervention, one has to include the statistically necessary number of suitable study participants, which is a big challenge in a small country like Austria. Therefore, the ABCSG collaborates in international clinical research projects or leads them from the headquarters in Vienna. A fine example of this is the ABCSG's largest study to date – ABCSG 42/ PALLAS – and the associated transatlantic academic collaboration with Alliance Foundation Trials (AFT) and many other local partners and study groups. While AFT has legal responsibility for this collaborative trial project in the U.S., ABCSG serves as legal sponsor in 20 countries and coordinates approximately 250 study sites.
Forum Study Nurses & Coordinators.
From the beginning of its clinical research activities, the ABCSG was the only research organization in Austria to conduct educational events specifically for study nurses and study coordinators. However, the initiative "Forum Study Nurses & Study Coordinators", which emerged from this in 2008, goes far beyond offering a basic course. In addition to offering further specialized training and excursions, great importance is attached to being a forum for networking and the exchange of experience between study nurses and study coordinators.
What the future holds
The ABCSG's involvement initially focused on breast and later colorectal cancer, and now other cancer entities are gradually being added. Meanwhile, the ABCSG is also conducting studies on liver metastases and pancreatic cancer. The medical need in the latter is high, this carcinoma is only the 11th most common cancer, but in terms of tumor-related cause of death, pancreatic carcinoma ranks 4th.
The translational projects and subprojects of the studies are becoming increasingly important for the ABCSG, since in the context of personalized and stratified medicine, companion diagnostics and the development and research of prognostic and predictive biomarkers are playing an increasingly important role in the diagnosis and therapy of these cancers.
---
Share on