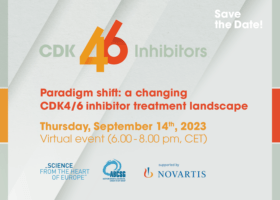 Paradigm shift: a changing CDK4/6 inhibitor treatment landscape – NOW ONLINE!
| | |
| --- | --- |
| Date: | 14.09.2023 |
| Start/End: | 6.00 – 8.00 pm (CET) |
| Location: | virtual |
12.07.2023
Cyclin-dependent kinase (CDK) 4/6 inhibitors have proven to be game changer as targeted cancer therapy of patients with hormone receptor-positive breast cancer and they have established as standard of care for the treatment of advanced HR+ breast cancer. Also, mechanisms of resistance to CDK4/6 inhibitors, biomarker analyses to better select patients who derive the greatest benefit from CDK4/6 inhibitors, in both early and advanced settings, and more issues have been elucidated.
In this virtual event with the kind support of Novartis – which already takes place for the third time – both ABCSG and international breast cancer experts will discuss the paradigm shift in the treatment of breast cancer patients due to a drastically changing treatment landscape of CDK4/6 inhibitors in different stages of breast cancer. From metastatic to early breast cancer.
Particularly the experts will debate on hot topics such as the "big CDK4/6i picture" – OS data and their significance for clinical routine and therapeutic decision-making, as well as discuss the move from research to practice with examples of recent convincing results in adjuvant studies and their raising importance as treatment options even in earlier stages of breast cancer.
Furthermore, preclinical studies will be dissected on their efficacy, prospective research directions as well as co-targeting therapy strategies to overcome CDK4/6 inhibitor resistance through SERDS will be outlined and discussed.
This event has been approved with 3 continuing medical education credits from the Austrian Medical Chamber (DFP-credits).
Access the on-demand video of the event in the → ABCSG members area.
---
---
Share on