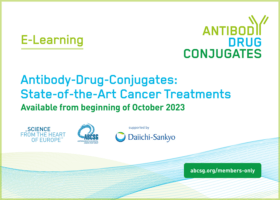 E-LEARNING: Antibody-Drug-Conjugates: State-of-the-Art Cancer Treatments
| | |
| --- | --- |
| Date: | Available in the members area |
| Start/End: | 1,5 hours |
| Location: | virtual |
12.07.2023
The E-Learning on ADCs in Breast Cancer Treatment hosted by ABCSG-president Prof. Dr. Michael Gnant is a joint project of ABCSG and Daiichi-Sankyo. In this on demand continuing education format with three lectures followed by a panel discussion you will learn about the advancements with next generation ADCs, the successful management of adverse events as well as current standards and future perspectives in HER2-treatment.
Duration of the video approx. 1,5 hours.
The demand-video is now → available in the members area!       
Online Portal
Access the E-Learning via the ABCSG Members Area (Health Care Professional only). If you are interested and not registered yet, you can register via abcsg.org/registration. Otherwise, please log in via abcsg.org/members-only.
---
Share on