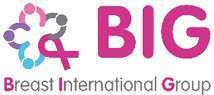 Latest BIG newsletter reports on the ABCSG 52 / ATHENE study
10.11.2023
Successful recruitment during COVID-19 pandemic and very promising trial results!
The ABCSG 52 / ATHENE study is investigating the efficacy and safety of a neoadjuvant immunochemotherapy regimen consisting of atezolizumab, trastuzumab, pertuzumab and epirubicin in HER2-positive early breast cancer patients in regards to pathologic complete response (pCR).
The impressive pCR rate of the study was presented for the first time by Assoc. Prof. Dr. Gabriel Rinnerthaler at the "ESMO 2023 Breast" in May in Berlin in the "Best Abstracts Session 2".
Furthermore, at the San Antonio Breast Cancer Conference 2023, a secondary analysis regarding pCR according to early metabolic remission in an interim FDG-PET scan and to tumour infiltrating lymphocytes will be presented.
Download BIG Newsletter No. 19 / November 2023
---
Share on